---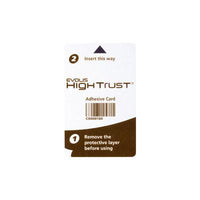 Evolis ACL003 adhesive cleaning cards offer an easy and inexpensive way to maintain your printer's optimal printing functionality.

Evolis ACL003 cleaning cards feature a low-tack adhesive that cleans dust and other debris from your Evolis Zenius or Primacy printer's card rollers to help avoid damage to your printhead and help ensure the quality of your printed cards. Simply run the cleaning cards through your printer to clean the rollers.

Evolis ACL003 adhesive cleaning cards are compatible with Evolis Zenius and Primacy printers.

Did you know that Evolis ACL003 cleaning cards have a shelf life?

When stored under proper conditions, Evolis ACL003 cleaning cards typically have a shelf life of up to one year. Cleaning supplies that are more than one year old, and improperly stored, will not clean optimally and will likely end up costing more money and time in maintenance and in reprinting cards.

We guarantee the our ACL003 adhesive cleaning cards are genuine Evolis products, are stored properly, and are always 'fresh'.
Manufacturer and item#: Evolis ACL003
Includes 50 adhesive cleaning cards - for cleaning the card rollers.
For use with the following Evolis card printers:
See Why So Many of Our Customers Recommend Us
⭐️⭐️⭐️⭐️⭐️ Bree is a special kind of person.She answered all my questions with charm and enthusiasm.When I was stuck she got me unstuck. I wish all chatters would be as helpful, responsive and productive as she is. Thank you!
-IT Software company
⭐️⭐️⭐️⭐️⭐️ Bree was VERY helpful and walked me though my order. Your customer service is the BEST! Thank you!
-Health Club/Gym in Texas
⭐️⭐️⭐️⭐️⭐️ We were in a bind and needed several thousand proximity cards quickly. We chatted with IDGAMUT and they had what we needed. Great quality and service.
-Large School District

⭐️⭐️⭐️⭐️⭐️ Typically we don't write reviews, but IDgamut is just a cut above the rest. We needed a better card vendor for our electrical and security contracting business and they fit the bill for the multi site hospital network and other clients we support.
-Electrical Contractor 

⭐️⭐️⭐️⭐️⭐️ We needed guidance on our proximity card formats. Rick was very knowledgeable.
-Correctional Facility
IDgamut produces premium quality Proximity and contactless Smart Card access control credentials in a wide range of leading formats using the highest quality genuine semiconductors and manufacturing processes. Save money and get rapid delivery credentials with your facility code and card numbers. Save additional time with our SAME DAY Processing and have your cards the next day. 
IDgamut is committed to the total customer experience and we fully stand behind every product we sell.